Below is a procedure for creating a Sapling Learning Account so that you can do certain homework, quizzes, and exams.
Below is the home page for www2.saplinglearning.com. You will see three red buttons on the right. Click the one that says "US Higher Ed". That will open a log in window...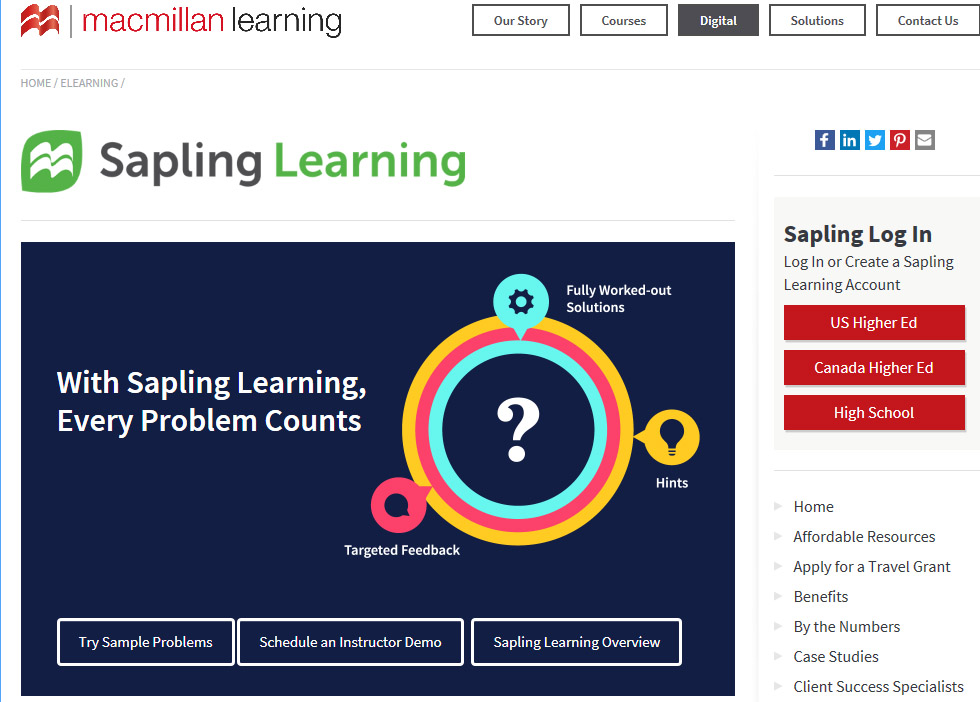 Below is the log in window. If you haven't created an account yet, then click the "+ Create an Account" link at the bottom.
When you click on the "+ Create an Account link," it will open up a form and the "+" becomes a "-". See image below. Here you can enter a Username and Password. It also gives you the option to create your account through Facebook. I haven't tried that, but I assume, you can log into Facebook and from there just to Sapling Learning. For "Instituion" start typing "Phoenix College" and it will bring it up. Then click on it. Time zone, of course, is Arizona Time. You need to click the box next to "I have read and agree to the Maxmillan Learning Terms and Conditions and Privacy Policy". You should read those if like. Then click "Create Account". At this point Sapling Learning will send you an email to the email address you entered. There will be a link in the email. (check your regular incoming email (and spam filter if you don't see the email). Click that link to bring up that webpage. They may ask if your class is "Introductory Chemistry" or "General Chemistry". For my CHM130 course, choose "Introductory Chemistry". Find your course in the list, which is listed by school, course, and instructor. You may need to use the 5-digit class # (30313) and Instructor name (Ken Costello) to find the correct course.
Find the button that says, "Send payment via Paypal or Credit Card" and follow the remaining instructions.  If there is an ebook, hold off on buying it through Sapling Learning. If you don't have the $40 at this time to pay for Sapling Learning access, they give you a 14 day trial period. You will need Sapling Learning to complete this course, but I save you money by letting you buy an older version textbook for around $10.
Once you have registered and enrolled, you can log in at any time to complete or review your homework assignments. Just go back to the home page and look for the username and password boxes at the upper right of the screen. www2.saplinglearning.com
Please UPLOAD a recent pic of yourself into your saplinglearning.com account to optimize course credibility/security. This will also be used for identification verification.
If you have any technical or payment problems, send an email to support@saplinglearning.com explaining the issue. You can also contact me for any concerns about the grading or questions on the quizzes. Don't contact Sapling support for those kind of questions.